Granite is a sturdy, rock-hard kitchen surface. And, with Stone Quest's help, you can achieve just about any look you want – from light and bright to old fashioned and classic. There are so many benefits of using granite countertops in your new home – here are a few.
When sealed, granite is durable, and it's unlikely to crack or chip. It's heat resistant, so you don't have to worry about placing a trivet under that hot pan. Go ahead and set it right down, it won't do any harm.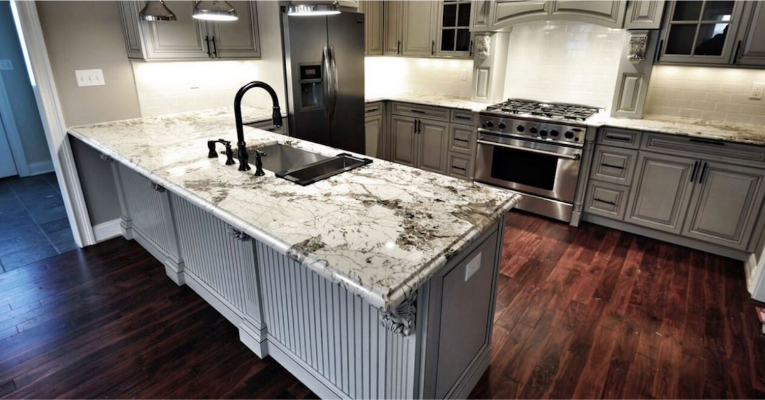 With its smooth, non-porous surface, granite is bacteria resistant and easy to clean with soap and water. Also, the specks and veining of the stone can often provide great camouflage for crumbs and kitchen counter messes. Unlike marble, limestone, sandstone, and travertine, that are more likely to show spills and scratches, good-old granite will give your counters the illusion of being clean even when they are not.
One of the biggest benefits of using granite countertops in your new home is that it can help you achieve any look for your kitchen. If you go with a light gray or white, and light cabinets you can achieve the look of a marble counter without the staining and challenges with durability. Or, you can choose a darker, even black, stone with white cabinets to get a crisp look. Finally, if you're more of the old fashioned, mahogany type, you can go with a dark cabinet and a rich stone.
As with any building project or remodel, when you choose the right stone and put some thought to the design of the kitchen, your selections can have a big effect on the look and feel of the home – adding value when it comes time to sell.
So, if you're looking for a truly one-of-a-kind kitchen, choose a granite slab from Stone Quest that is not only functional but also a unique piece of art that can be the center of your kitchen and your home.